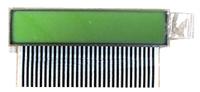 Bravo LX / Bravo FLEX / Encore / Pro Encore
Used by the top, nationally recognized

repair facilities!

Our pager LCD's are widely regarded as being superior to the original OEM LCD. How can this be, you ask? No pager manufacturer, except for Philips, manufacturers their own LCD's. Pager manufacturers use outside vendors to supply their pager LCD's.

Designing a pager is no easy task. The LCD is only a small part of the overall pagers design. Our advantage is that our emphasis is ONLY on the design and manufacture of the pager LCD. Since we design our own LCD's, our goal is not to just copy the OEM's design, but to make it better. When compared to the original, our pager LCD's have superior contrast, viewing angle and thicker segments.

Please contact us for pricing info!