Does your Apple iPOD have a broken or defective iPOD LCD screen? As you may know Apple will not repair it, or even sell you the an iPOD LCD. To meet market demand, CPR Technology has designed and developed a new line of iPOD 4th generation LCD modules that are equivalent in performance and drop-in compatible with Apple's original iPOD 4G LCD. It looks the same, and works the same!
Our iPOD LCD is only compatible with the iPOD 4th generation (4G) model pictured above AND the U-2 model.
Replacing your iPOD LCD is relatively easy. Once the case is opened up the LCD simply plugs in. Please visit http://www.ipodbattery.com/ipod2k4install.htm for instructions on how to open the iPOD's outer casing.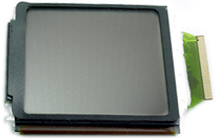 Pricing List:
| | | |
| --- | --- | --- |
| | Quantity | Price |
| | 1 | $55.00 ea |
| | 2 to 5 | 52.00 ea |
| | 6 to 24 | 47.00 ea |
| | 25 to 49 | 43.00 ea |
| | 50 to 99 | 38.00 ea |
| | 100+ | CALL FOR PRICE |
OR

CALL 877-277-5237

TO ORDER BY PHONE